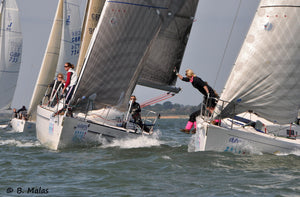 TeamO confirmed as party sponsor at the 10th Dubarry Women's Open Keelboat Championships
The Women's Open Keelboat Championship will be returning to Hamble for its 10th anniversary edition in June 2018. 
This year the event will be bigger and better than ever with the famous Frocks and Flipflops party moving to a new, larger venue at the Hamble Village Memorial Hall. In honour of the 10th anniversary of the event we are also delighted to be adding live music from the fabulous band "Those Restless Knights" thanks to our new party sponsors TeamO Marine.
TeamO was founded after a number of high-profile accidents and deaths involving sailors being let down by their lifejacket and tether safety equipment. There was clearly a need for an innovative new approach to life saving design. Oscar Mead (the youngest ever finisher of the solo transatlantic OSTAR race) came up with the idea of a lifejacket that will keep a wearer safe if they go overboard whilst tethered to a vessel. The BackTow lifejacket was the result! TeamO launched its patented BackTow lifejacket harness to the market in Spring 2017, and since then it has received widespread acclaim - it was even called 'revolutionary' by one of the industry's leading publications. You can now find it stocked at all good chandleries across the UK.
Lauren Mead from Team O has said: "TeamO is very excited be supporting WOKC 2018. Having taken part in the very first event as a competitor it has been brilliant to watch it grow and thrive thanks to the hard work of so many volunteers over the years, and to be supporting as the party sponsor this year for the tenth anniversary! We wish all of the teams the best of luck and good racing!"
"We are over to moon to have Team O's support and to be able to put on a live band and a top notch party for all of the competitors and supporters of WOKC" said Sarah McColl, one of the organisers of the Dubarry Women's Open Keelboat Championship 2018. "We can't wait to host a fantastic evening of typically flamboyant WOKC dancing and merriment with plenty of opportunities for sailing networking and post-race analysis of the day's action on the water."
The racing format will focus on IRC racing and, after last year's record entry of 20 boats and the return of the J80 class, we are anticipating that the 10th anniversary edition will be the biggest and best yet.
Tickets for the Frocks and Flipflops party and boat entries for WOKC are available now from HRSC either online or via the admin team on 02380 452070. Family and friends are encouraged to come along to the party and join the fun.
If you would like further details, please contact the WOKC organising team on wokc@hotmail.co.uk, check out www.womensopenkeelboatchampionships.co.uk or register your interest on Eventbrite.
---